Dance, Make Up and Performance Workshops Facilitated by #JazidaProuctions in 2017
28 January 2017 - Fan Dancing with Camilla Cream (VIC)

Ever wanted to learn the FAN-tastic moves of Sally Rand in the glorious burlesque days of old? Join this FAN-tabulous workshop with Camilla Cream (all the way from Melbourne) to blow your audience away!

We'll be learning fan-cy moves, fast and slow, smooth transitions then we'll put them all together in a feather fun routine!

Join the fan-omenon!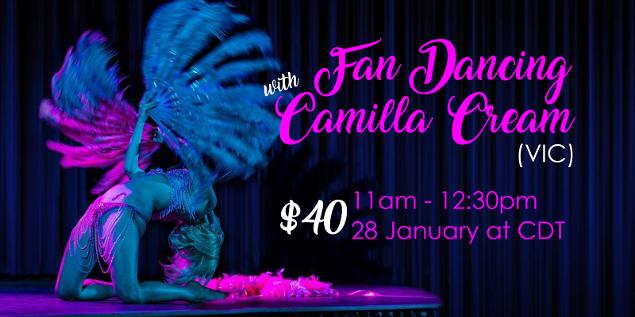 11 February 2017 - Pastie Making and Tassel Twirling with Lenore Noire (QLD)
Lenore Noire (Winner of Miss Burlesque QLD 2016) is coming all the way to Canberra and will be teaching the art of pastie making and tassel twirling!
There is nothing more exciting than tassel twirling and pasties in my humble opinion so that means I pretty darn excited to show you my way of making pasties.
We will be making basic round pasties with tassels (that you can rhinestone later on if you wish) and I will show you how to make weird shapes (like my explosion ones in the middle of the picture)
Once we have those I will show you my go to tassel twirling tricks.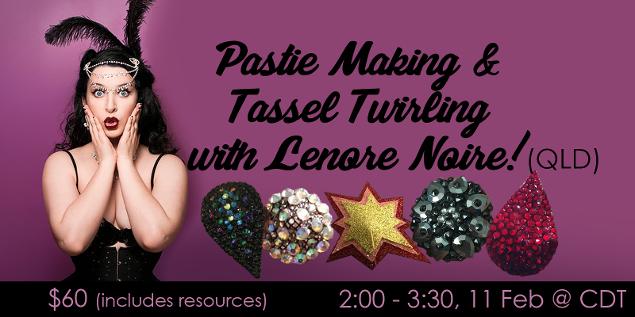 11 February 2017 - Feather Fans for Neo with Rosetta Sterling (QLD)
Rosetta Sterling (all the way from Queensland) is coming to Canberra and will share tips on using feather fans for neo burlesque acts!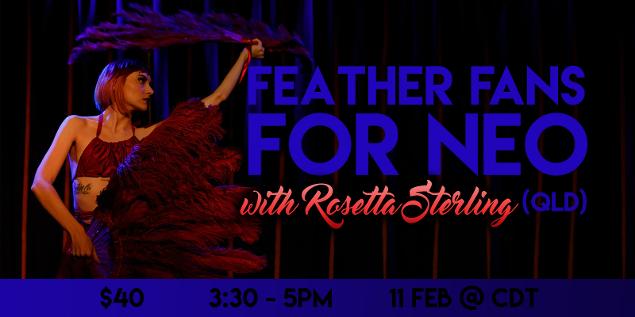 11 February 2017 - Mesmerising Make Up with Lenore Noire (QLD)
The incredible Lenore Noire (winner of Miss Burlesque Queensland 2016) is coming to Canberra and will be sharing her tips and tricks to execute mesmerising make up for the stage....
We will be covering (pun included) a variety of techniques like contouring, covering your eyebrows and glitter application but please don't hesitate to ask if you want to know something specifically.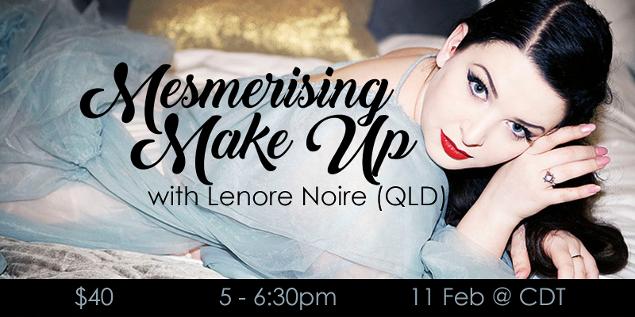 20 May 2017 - Head to Toe with Jrisi (NSW) - Full Day Intensive
Open to dancers from Beyond Beginner level right through to Advanced/Professional.
This 5hour dance intensive has everything under one roof!
WARM UP / TECHNIQUE / POSTURE / FOOTWORK / TRAVELLING STEPS / ARM WORK / GROUP-PARTNER WORK / CREATIVE PLAY / RHYTHMS / PERFORMANCE SKILLS / STAGING / SHORT CHOREOGRAPHY / COOL DOWN
Equivalent to 10 different workshops, the intensive starts off with Jrisi's signature all body warm ups that include, Jazz, Contemporary, Salsa, Pop and even some sit ups! It's fun and funky plus gets you in the right head space for a day's worth of dancing!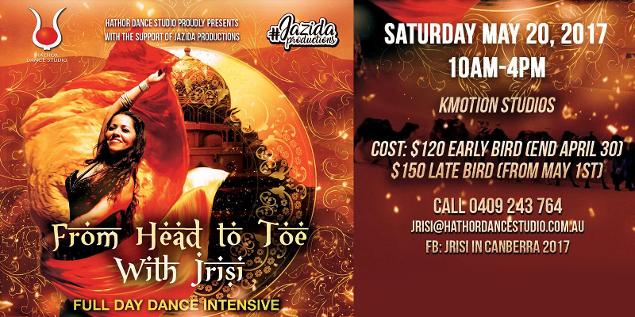 21 May 2017 - Dark, Dramatic and Alternative Make Up with Toria (VIC)
Learn to create striking and creative looks through the power of makeup in this fun-filled 2 hour workshop!
Toria is a Melbourne-based qualified make up artist, known for her gothic, dramatic and versatile style and will be sharing her professional tricks and tips.
This workshop will focus on creating eye catching looks which are ideal for stage - but will be grounded in solid technique which you can also translate to more natural looks.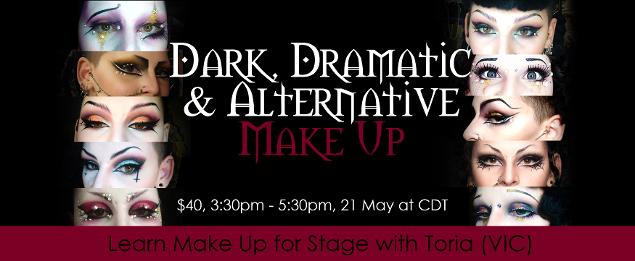 17 June 2017 - A Lady's Guide to Being Foxey with Lady Fox (VIC)
In this workshop, Lady Fox explores the steps she uses to establishing a confident and captivating presence that that exudes joy and the freedom to continually grow. Used as a performer for stage, photo shoots or just entering a party of Function and leaving everyone remembering you are a Foxey Lady. (Men, Women, Aliens and Fairy tale creatures welcome and no experience necessary.)

You are invited to explore the process in this 2 hour fun filled workshop before she heads back to her home town.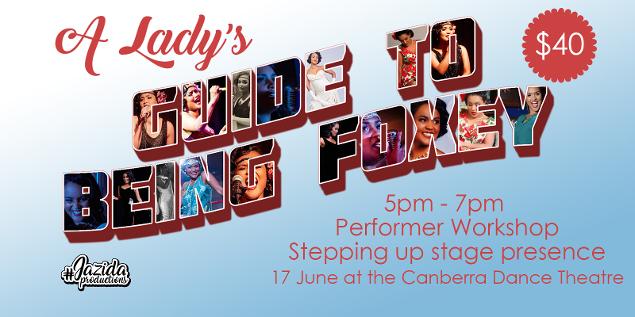 23 July 2017 - Taking Flight with Feather Fans with Maple Rose (VIC)
This fantastic feather fan workshop she has just toured around Europe! Melbourne's own Miss Maple Rose is gifted in the art of fan dancing and is coming to Canberra to share her skills with you.

Get ready to take flight with this workshop and we look at fan dancing from the perspective of two birds: Peacock and Swan.

In the peacock style of dancing, the fans are like a peacock's tail. It's is all about concealment, teasing, shapes and showing off. Many classic showgirls use this style, and their talent lies in the tease.

In the swan style of dancing, the fans are much more theatrical.The fans mimic the movements of wings and the performer's talent lies in the technical movements they make.

https://www.facebook.com/events/423874557996206/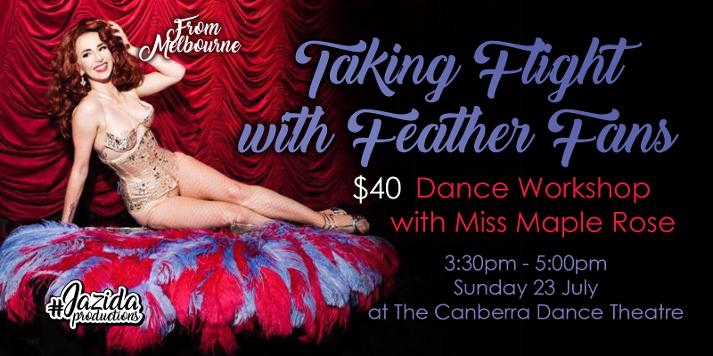 26 August 2017 - Big Bad Booty with Alyssa Kitt (VIC)
Stop, wiggle and shake it for me with this ground-quaking, ass-shaking tutorial in how to move your big, bad, booty.

Let Australian burlesque powerhouse Alyssa Kitt school you in putting the 'clap' in thunderclap and show you how to release your inner-wild woman with this hair-flicking, butt-kicking hour and a half workshop.

Alyssa is coming to Canberra from Sydney, where she regularly teaches regularly at the luscious Sky Sirens studio and has taught many aspiring burlesque performers around Australia, the United States and Canada. She's known as a caring mentor and teacher with an in-depth knowledge on stage-craft, musicality, audience connectivity and building confidence.
https://www.facebook.com/events/147452605830032/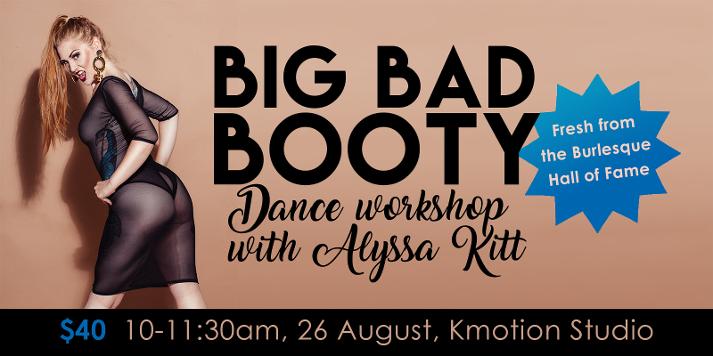 24 September 2017 - #Twerkzotic with Ivy Fox (SA)
In collaboration with #AussieTwerk. TWERKZotic®is a newest style of @AussieTwerk in which we combine twerk moves with the exotic dance plasticity and sexiness.
More details to come...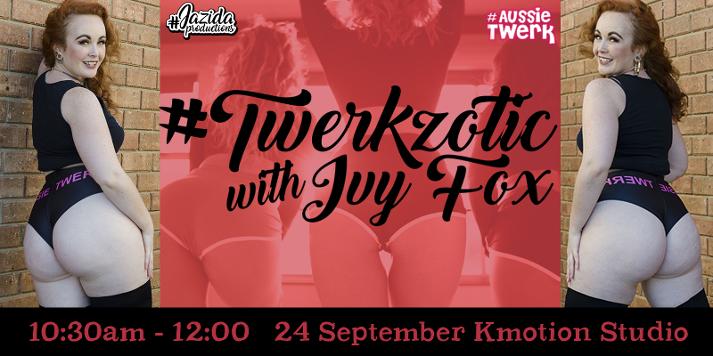 24 September 2017 - Contemporary for Burlesque with Cherry Buttonz (NSW)
Cherry Buttonz is a model and dancer from Sydney. As she fell into the world of feathers and rhinestones that is burlesque she was finishing up her Bachelor of Dance majoring in contemporary and competing in the Top 100 of So You Think You Can Dance! The foundations and technique of contemporary dance she has learnt have been an asset she uses to set her burly acts apart and improve and polish her moves for captivating and entrancing audiences wherever she performs.
More details to come...
21 October - Bring your Face Game with Lady Le Feu
Learn how to master an expressive face for perfomance with Lady Le Feu
More details to come...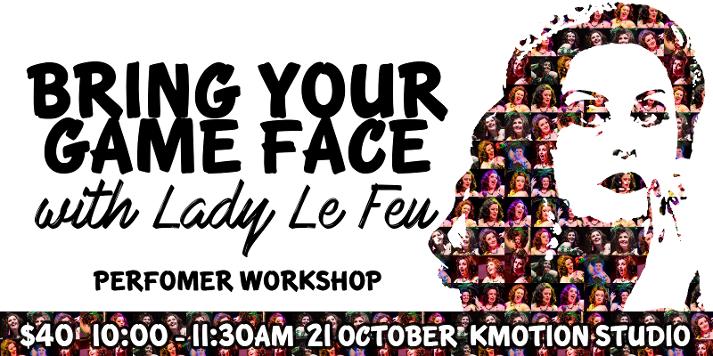 More to come!!!
Sign up to the mailing list, follow on facebook, or check out the instagram account to find out what else is happening!
Other workshops happening in 2017 include:
An industrial bellydance workshop with Aradia from QLD (November)
A fosse/charelston workshop with Betty Bombshell from VIC (Dec)
#JazidaProductions will be taking a break in January, and will be back with more shows and workshops in 2018
Copyright #JazidaProductions